Farmers & Merchants Bank Partners with the Compton Initiative on Beautification Effort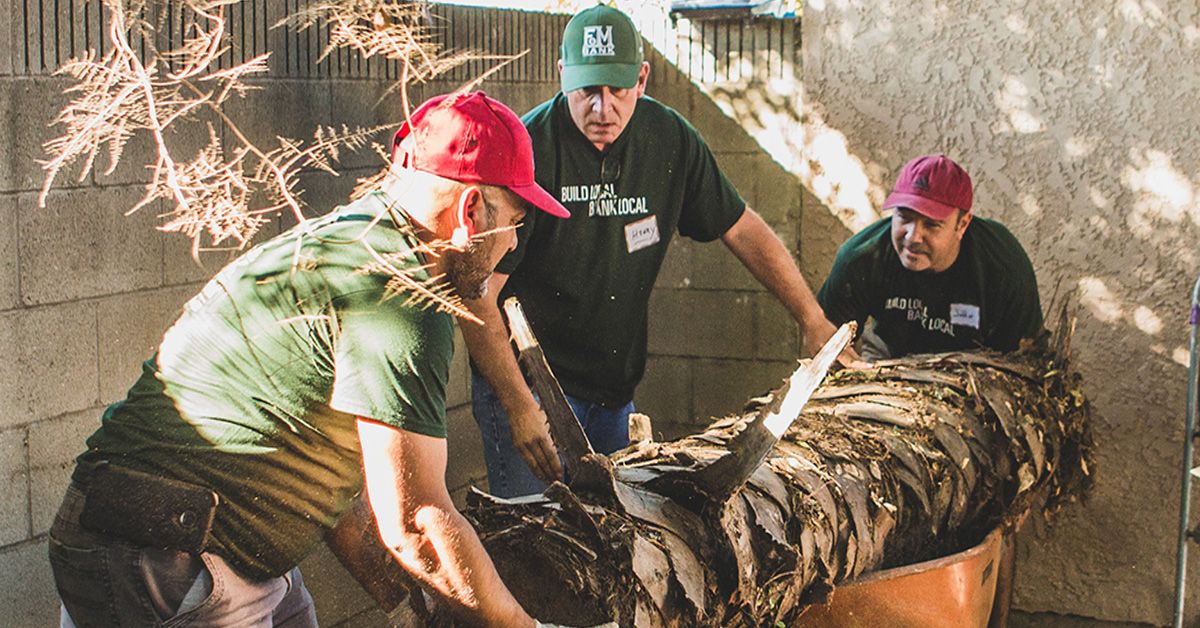 Volunteers from left to right: Ruben Cortez, F&M Bank President W. Henry Walker and Downey Branch Manager John Casillas working alongside hundreds of volunteers to help with restoration and beautification projects in the city of Compton.
Long Beach, CA (November 6, 2018) Farmers & Merchants Bank (F&M) – one of California's strongest and oldest banks - was proud to partner with the Compton Initiative and work alongside hundreds of volunteers to help restore and beautify the City of Compton on Saturday, October 20th
Founded in 2006, the Compton Initiative is a non-profit organization whose mission is to mobilize volunteers to restore the City of Compton by painting homes, schools and churches on quarterly workdays in partnership with individual volunteers and other organizations. It started with a small group of volunteers eager to show love and inspire hope, and has grown to thousands of caring workers of all ages and backgrounds eager to serve across the city.
"I felt inspired while working with Compton Initiative volunteers to make the City of Compton a more vibrant and hopeful place," stated F&M Bank President W. Henry Walker. "I am humbled and honored to be associated with an organization who obviously cares about the welfare of the community and goes above and beyond to make a positive impact."
The Compton Initiative offers community organizations, service groups, and non-profits an opportunity to make a sustainable impact in Compton by instilling a sense of care and pride within each neighborhood. The primary activity of the Compton Initiative is the quarterly workday, where large numbers of volunteers are matched with over 35 prepared work sites. Each event includes painting, debris removal, yard work, and graffiti removal at homes, schools, churches, and public spaces.
"With each beautification event, grateful residents and students gain a new sense of pride as their homes and schools get much needed restoration in just a few hours. We were honored to have Farmers & Merchants Bank support us in our latest event, and to have them see the positive energy it brings to the Compton community," said Jeudy Mom, Director of the Compton Initiative.
To date, the organization has beautified over 700 homes, and 430 buildings which includes 40 schools, 35 church buildings, 31 public spaces, 2 medical clinics and 175 murals in Compton.
About Farmers & Merchants Bank
Founded in Long Beach in 1907 by C.J. Walker, Farmers & Merchants Bank has over $7 Billion in assets, and 25 branches across Orange County, Long Beach, the South Bay and now in Santa Barbara. The Bank specializes in commercial and small business banking, business loan programs, home loans, and a robust offering of consumer retail banking products, including checking, savings and youth accounts. Farmers & Merchants Bank is a California state chartered bank with deposits insured by the Federal Deposit Insurance Corporation (Member FDIC) and an Equal Housing Lender. For more information about F&M, please visit the website, www.fmb.com.