Farmers & Merchants Bank Celebrates Valued Client's 100th Birthday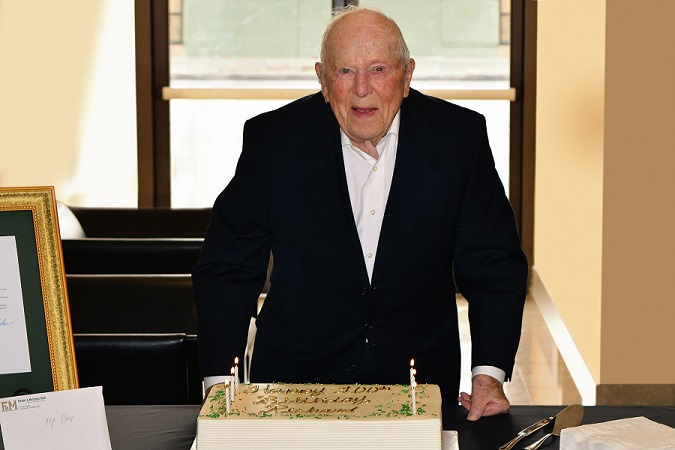 Long Beach, CA (January 16, 2018) – Farmers & Merchants Bank (F&M Bank) celebrated the 100th birthday of Richard Cords, a valued client for over 30 years.
F&M's Bixby Knolls office, at 4545 California Avenue, played host to Mr. Cords' 100th birthday celebration on Tuesday afternoon. F&M employees, clients and family of Mr. Cords were all in attendance. He was celebrated with a cake, a special letter of thanks from F&M Executives and a "Happy Birthday" song from the crowd.
F&M Bank Chairman of the Board and CEO, Daniel K. Walker said "It is truly a special honor for all of us here at F&M to have the privilege of serving a client like Mr. Cords."
Richard D. Cords was born in Brooklyn, New York in 1918, only 11 years after F&M Bank was founded. He attended high school at the elite Brooklyn Poly Prep and continued his higher education at Dartmouth College, where he was captain of the Varsity swim team. He served in the United States Navy as Lieutenant, Assistant Operation Officer in World War II. He retired from his career as an attorney at the age of 69. Today, Richard and has been married to his wife Virginia for 74 years and they have 3 children, 5 grandchildren, and 10 great-grandchildren.
Mr. Cords' community involvement includes membership in the 32 Degree Masons and member emeritus at Virginia Country Club. He still has a love for the game of golf and enjoys lunches and socializing with friends at Virginia Country Club. He is a loyal client at Farmers & Merchants Bank, where he still visits at least twice a month.
About Farmers & Merchants Bank
Founded in Long Beach in 1907 by C.J. Walker, Farmers & Merchants Bank has nearly $7 Billion in assets, and 24 branches across Orange County, Long Beach and the South Bay. The Bank specializes in commercial and small business banking, business loan programs, home loans, and a robust offering of consumer retail banking products, including checking, savings and youth accounts. Farmers & Merchants Bank is a California state chartered bank with deposits insured by the Federal Deposit Insurance Corporation (Member FDIC) and an Equal Housing Lender. For more information about F&M, please visit the website, www.fmb.com.