Farmers & Merchants Bank CEO Hand-Delivers Nearly 2,000 Apples to Long Beach Police and Fire Departments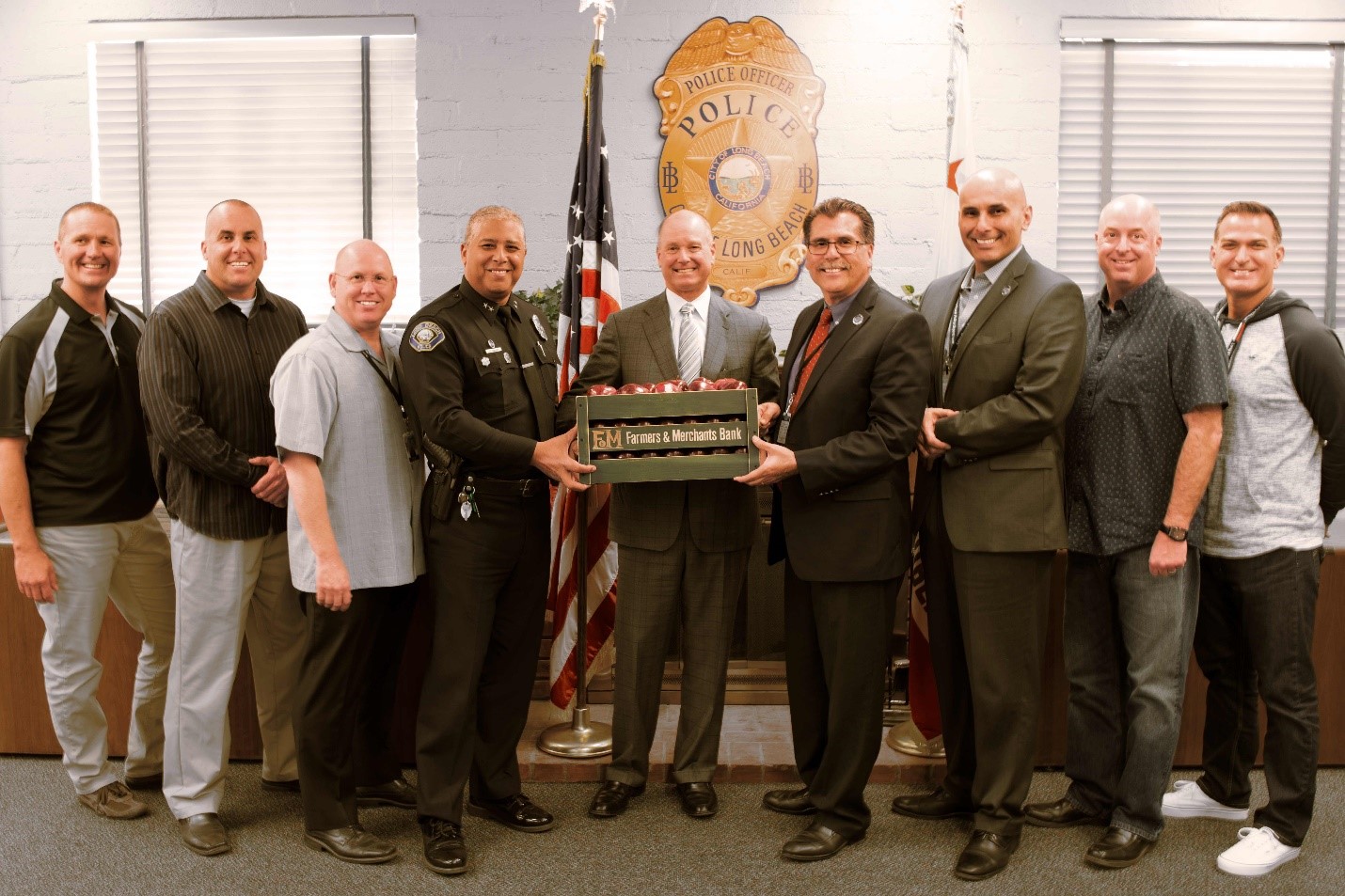 LONG BEACH, CA (December 8, 2017) – For the 79th consecutive year, Farmers & Merchants Bank (F&M Bank), delivered nearly 2,000 apples to the Long Beach Police and Fire Departments, as part of a long-standing Christmas tradition.
The gifting of apples at Christmastime started in 1938 shortly after Gus Walker became President of F&M Bank. Since fire and police personnel are not allowed to receive monetary gifts, Gus chose Washington Apples. At the time, Washington Apples were nearly twice the size of an average apple and were the highest quality Gus could find on the West Coast.
"Our local first responders work tirelessly to protect our city year-round," said F&M Bank Chairman of the Board and CEO, Daniel K. Walker. "My grandfather's tradition of gifting apples is simply our way of saying Merry Christmas and thank you for your service."
Walker personally delivered apples to Police Chief Robert Luna and his police officers, as well as Fire Chief Mike DuRee and his firefighters at their respective stations.
"We are thankful F&M Bank and the Walker Family take a moment each Christmas to recognize the men and women of the Long Beach Police Department. The gift of apples is truly a holiday treat that our employees look forward to each year," said Chief Luna.
The firefighters are said to distribute the apples amongst all of their shifts, where some enjoy them right away and others incorporate them into their menu for the day, including using the apples for baking, making pies, or dicing apples up for a nice fresh salad.
"I am honored to carry on the tradition of accepting these apples as Long Beach Fire Chief, just has my grandfather did from then F&M Bank President Gus Walker," said Chief DuRee.
In addition to the annual apple delivery, F&M also participates in local toy drives and serves warm Wassail and Gingerbread to all clients that visit the bank's 24 Southern California branches between December 18th and 23rd.
About Farmers & Merchants Bank
Founded in Long Beach in 1907 by C.J. Walker, Farmers & Merchants Bank has nearly $7 Billion in assets, and 24 branches across Orange County, Long Beach and the South Bay. The Bank specializes in commercial and small business banking, business loan programs, home loans, and a robust offering of consumer retail banking products, including checking, savings and youth accounts. Farmers & Merchants Bank is a California state chartered bank with deposits insured by the Federal Deposit Insurance Corporation (Member FDIC) and an Equal Housing Lender. For more information about F&M, please visit the website,
www.fmb.com